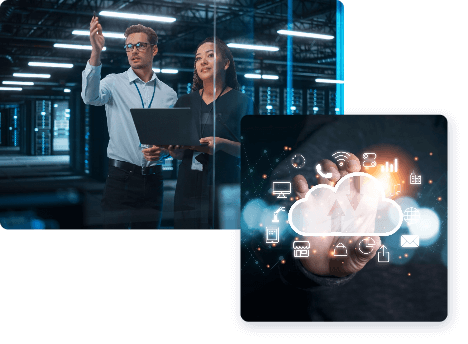 Massive Cost Savings. Reduce ISDN Line Rentals & PBX Systems Maintenance
Keep Numbers When You Move Premises Or Area: Built-In Flexibility
Free Calls to UK Fixed Destinations & Free Calls Between Connected Sites
It's time to modernise. Replace clunky, inflexible ISDN with

a UCaaS solution that accelerates business growth.
SIP Trunks, PBX Systems, & Your
Contact Centre: The Advantages
Significantly Lower Cost per Channel Than ISDN, With Baked-In Flexibility for Geographic Numbers
Centralise & Streamline: Unified & Easy-to-Use Call Management System & Collaboration Tools
Say Goodbye to Number Translation. 01, 02, 03 & 08 Termination on Subscribed SIP Trunks
Never Miss a Call With Consolidated Numbers - Maximise Your Agent / Customer Interactions
Unified Communication as a Service Partnership.

It's What We Do.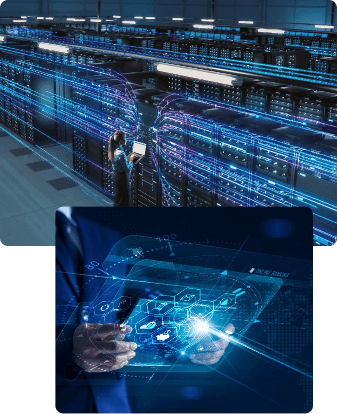 What is UCaaS & How Does It Benefit My Contact Centre?
UCaaS (or unified communication as a service) is a cloud-based solution that enables seamless communication and collaboration across multiple channels.
By integrating UCaaS with your existing PBX system, charity, retail, public and construction companies can:
Enhance call management
Increase flexibility
Reduce costs
SIP trunking means you can connect your contact centre to the public switched telephone network (PSTN) via the internet, eliminating the need for clunky and inflexible traditional ISDN lines.
This allows you to easily scale up or down as needed, and provides the agility to respond to changing business needs. In partnership with Gamma, our VCC is designed to help maximise your business operations and communication capabilities.
Integrating SIP Trunks & PBX Systems
SIP trunking via the VCC is a cost-effective way to connect your contact centre to the public switched telephone network (PSTN) through the internet.
By integrating SIP trunks with your existing PBX system, you can streamline your call management processes and massively reduce costs associated with traditional phone lines.
SIP trunks provide greater flexibility and scalability, allowing you to easily adjust capacity to meet changing demand.
Moreover, when integrated with your PBX system, SIP trunks enable your contact centre to deliver exceptional customer interactions as efficiently as possible, ensuring that calls are routed to the right agent at the right time with tools such as IVR (interactive voice response).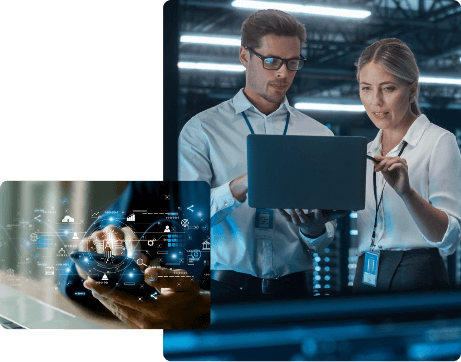 Want to see our

unified communications solutions in action?
Our Unified Communications Technology
UCaaS, SIP Trunks & Call
Management Service Provider: FAQs
What is unified communication as a service (UCaaS)?
UCaaS solutions such as our VCC are cloud-based systems integrating various communication channels, including voice, video, messaging, and collaboration tools into a single platform.
UCaaS provides businesses with an efficient way to manage their communication capabilities, allowing them to streamline their business operations and enhance customer interactions.
How can UCaaS benefit contact centres?
UCaaS improves communication capabilities and business operations in a number of ways, including:
Simplifies customer and business communications across various channels
Improves agent productivity (through tools such as instant messaging) and customer satisfaction
Enables remote work and virtual teams, including video conferencing tools
Reduces costs associated with traditional communication systems
Offers greater scalability and flexibility to accommodate business growth
Can UCaaS be integrated with existing PBX systems?
Yes, UCaaS can be integrated with existing PBX systems to provide enhanced communication capabilities. This integration enables businesses to benefit from both UCaaS and PBX systems, leveraging the strengths of both technologies.
What are the advantages of SIP trunks for contact centres?
In terms of enabling business growth, SIP trunking is remarkably effective. It:
Is a cost-effective way to connect to the PSTN through the internet
Allows greater flexibility and scalability to adjust capacity as needed
Provides reliable and high-quality voice and data transmissions including smooth file sharing capabilities
Streamlines call management processes and reduces costs associated with traditional phone lines
What resources are available for contact centres looking to implement UCaaS?
We offer a wide range of resources to help businesses understand and implement UCaaS, including consultation services, technical support, and training programs.
We also have a resource centre, including our blog, to help your understanding of UCaaS, and we're happy to offer a free demo of our VCC in action.