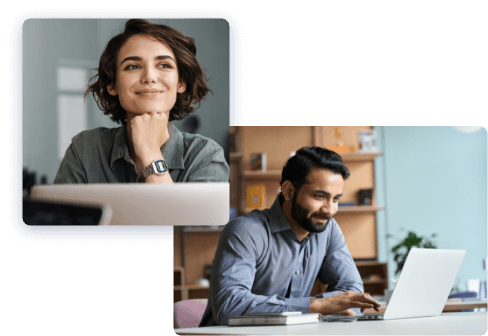 Scale Your Organisation Rapidly & Easily
Specialised Omnichannel Communication Your Clients Will Love
Anticipate Client Needs: Secure Data & Enriched Communications
Minimise Downtime & Avoid Endless Onboarding
Your Made-to-Measure Comms Solution.
Rapid Setup Means High Efficiency with No Installation Downtime
Integrate with Your Current CRM to Ensure Truly Optimised Communication
Scalable for Your Long-Term Goals, so You'll Thrive in Your Industry Space
Guarantee You'll Always Impress; This System Never Goes Out of Date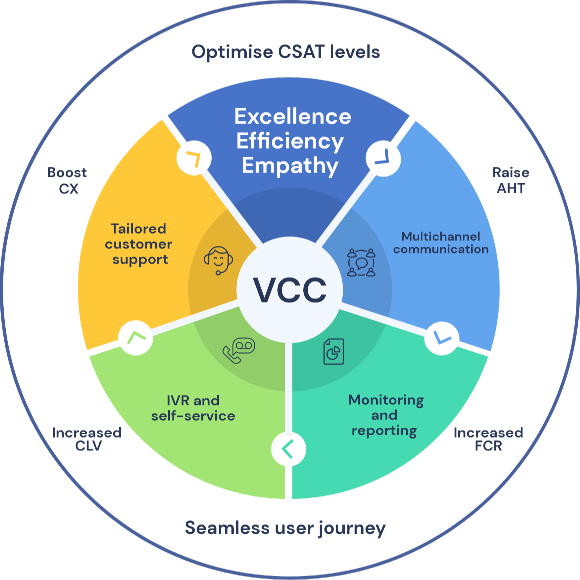 UK and international numbers supplied or ported


0300 and 080880 special number ranges for charities and helplines


Want to Build a Custom Cloud Contact Centre?
Explore Our Flexible Pricing Options
We Provide a Great Customer Service, and So Do Our Partners
"Virtual Contact Centre is seamless, providing communication benefits we never would have thought possible."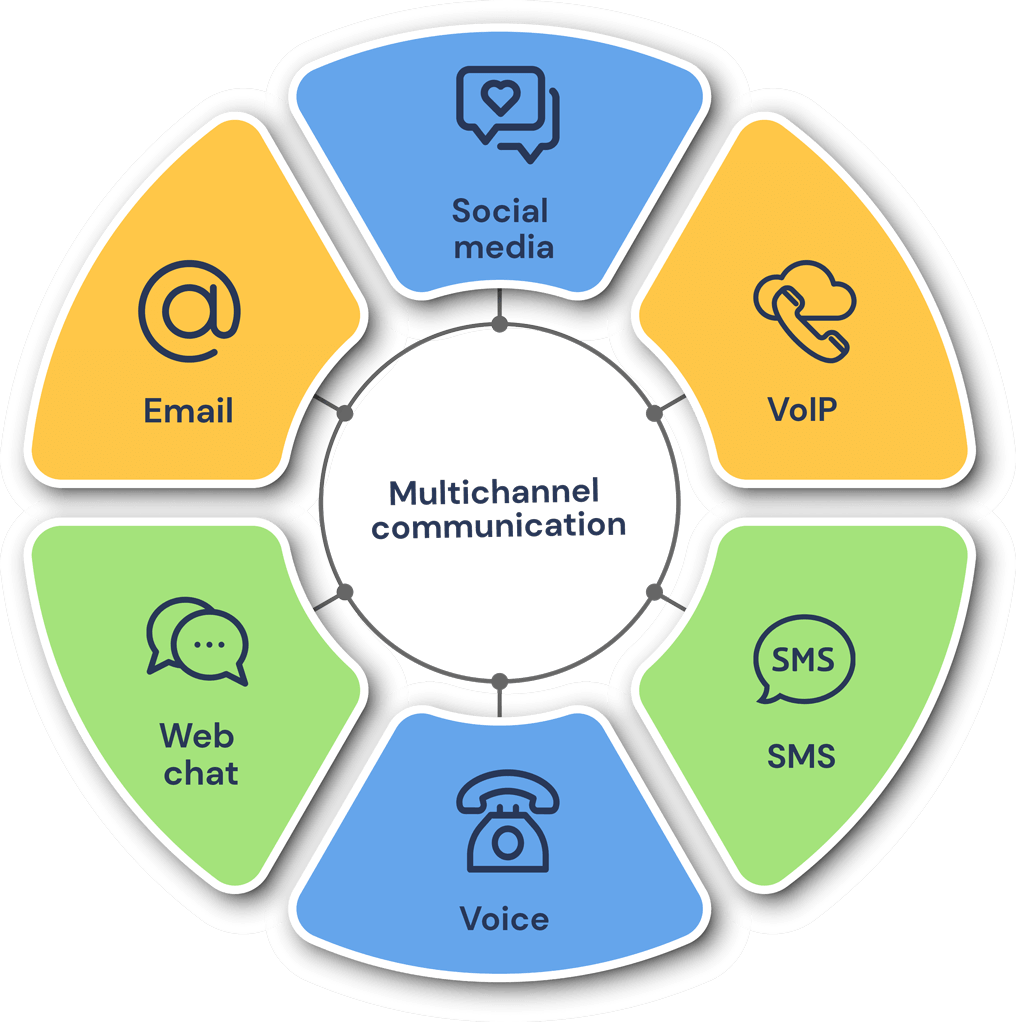 Omni-Channel Cloud Contact Centre for Your Organisation
Phone, Email, SMS and Beyond: Future-Proofing Communications





Effective & Reliable Call Queueing: Manage Call Volume Spikes
Virtual Queue
Give your callers the option to hold queue position without needing to wait on the line.

Callback Request
Optimise your user journey, manage peaks, and improve staff utilisation by offering your clients a callback.

Priority Queueing
By prioritising high-value calls you'll offer a premium service, increase conversions, and tap down abandonment rates.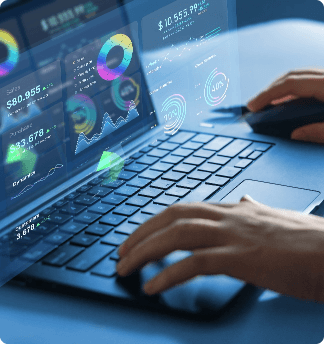 Hit Your Core KPIs with Analytics
Improved service level, streamlined CX, ROI, CSAT, reduced abandonment rates…
Whatever your KPIs, our comprehensive statistical and analytics suite helps drive your organisation toward its operational targets.
About our Futr-Powered AI Chatbot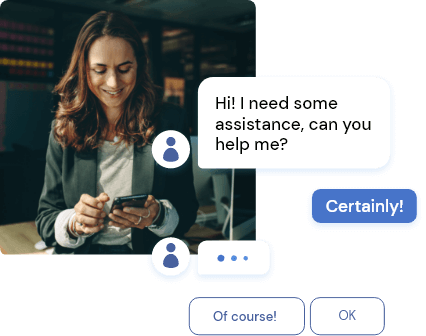 "*" indicates required fields
Fully Secure Payment System for Maximum Client Security
Call Recording Capabilities Improve Service Delivery
Gain Valuable Operational Insights with Statistical Reporting
Enable Comprehensive Performance Analysis via Real-Time & Historical Data
Login to Your Call Handling Account
Is the VCC suitable for smaller organisations?
Yes, absolutely – and it's equally suited to larger, multinational businesses. Our VCC is perfect for any sized organisation, and we've engineered it for success in your sector. Our cloud-based system means the sky's the limit.
How can the VCC help companies in my sector specifically?
Whether you're a charity, a retailer, public service or construction firm – our VCC software is industry-tailored and the perfect partner to help you meet your long-term business goals. It's infinitely scalable & never becomes obsolete, meaning your organisation is always reaching new heights by hitting your core KPIs.
These days, a customer or client will switch channels multiple times during their user journey, and expect personalised service throughout. Utilise our VCC to ensure your organisation performs at the top of its game – however people choose to communicate.
Give your clients the solution they need, when and where they need it, and become known as a pleasure to deal with.
What integrations does the VCC offer?
Our VCC is able to integrate with any CRM based on your needs, including Salesforce, Dynamics CRM and Zendesk.
Your organisation will be able to offer elevated client service, enriched communications and data security via our VCC. We provide a range of off-the-shelf integrations and can directly embed our VCC into your CRM of choice, also enabling single sign-on from the above providers as well as from Google.
However you operate, it's safe to say; our Virtual Contact Centre software dovetails with your existing applications and CRM, for a communications system that works in true harmony.
What's special about the VCC?
We've designed our software specifically for charities, retailers, public entities and construction firms – and it shows.
Unlock instant hotdesking with top-tier reliability, giving you unrivalled flexibility. Our VCC boasts over 99.999% uptime with no installation necessary, so you'll enjoy sector-specific, reliable software that integrates with your current systems and enhances your operational potential.
Whatever your KPIs, our comprehensive statistical and analytics suite helps drive your organisation toward its operational targets. Continually hone an optimal client service by reviewing your current interactions, and enable rapid dispute resolution by utilising our Advance Record functionality.
Moreover, you can forget about archaic phone systems. Our VCC never becomes obsolete, so you'll always serve clients with a high-spec, modern solution.
What communication modules does the VCC offer?
Our VCC is built in a uniquely-modular way, with each channel optimised for maximised efficiency and coming together in a singular, unified contact solution.
Voice
Our voice module can upgrade and refine your current system, or be deployed as a complete phone & call centre solution – with total infrastructure integration, and no hardware/software installation needed.
AI web chat
AI-powered web chat & private IM comes as a standalone solution or as an element of the full VCC suite. Give your agents immediate access to real-time live chats with clients for an optimal CX, and enhance the efficiency of your internal team comms.
Email
Our specially-designed email support module adds a whole new level of functionality to your inbox; you'll be able to instantly assign individual messages and give your staff access to efficiency-boosting correspondence tools.
SMS
Sometimes, SMS is the best way to get in touch with your clients – that's why we've got an SMS-dedicated module with a whole host of modern features. Provide your clients with a fast, simple and convenient channel to make contact or receive updates.
Social media
We're able to offer enriched client communications across all the major social platforms including WhatsApp, LinkedIn, Facebook, Instagram & Twitter. Connect with your clients – whichever social platform they're active on.
Will I be able to view reports based on user data and insights?
Short answer – yes. Our VCC means you don't have to just hope for the best when dealing with clients; you can guarantee it.
Quickly learn exactly what you need to know with our suite of statistical reports. Compare, explore and survey your operations with learnings taken from deep data analysis. Access our Online Statistics portal, apply the filters you need & download reports instantly.
Is sensitive user information protected in the VCC?
Absolutely. Our VCC allows your agents to take details, monitor progress and complete transactions, all without the client needing to disclose banking information. Say goodbye to hefty penalties. View our security protocols to learn more.