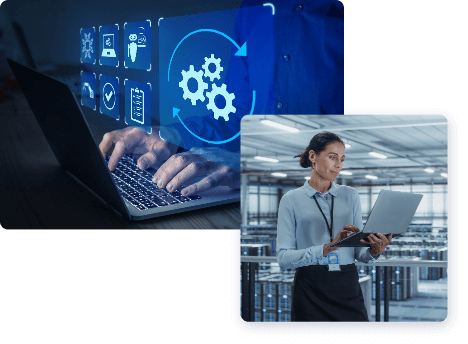 Focus on Customer Service & Reduce Your Internal Workload
Streamline Operations With Contact & Call Centre Automation Software
We Know What We're Doing: Leave Your Comms Management To Us
We don't outsource our contact centre services.

Discover the benefits of our managed administration now.
Managed Administration – Leave
the Hard Work To Us
If Self-Service Isn't For You, We're Happy to Provide a Totally Managed Contact Centre
We'll Completely Manage Things: Adding Users, Managing Enquiries, Configuring Queueing, Controlling IVR Prompts & More
Contact & Call Centre Automation Solutions: Align Your Team With Customer Service
Reduce Your Internal Workload, Streamline Operations, & Cut Costs
Searching for a fully-managed cloud contact centre?

You've just found it.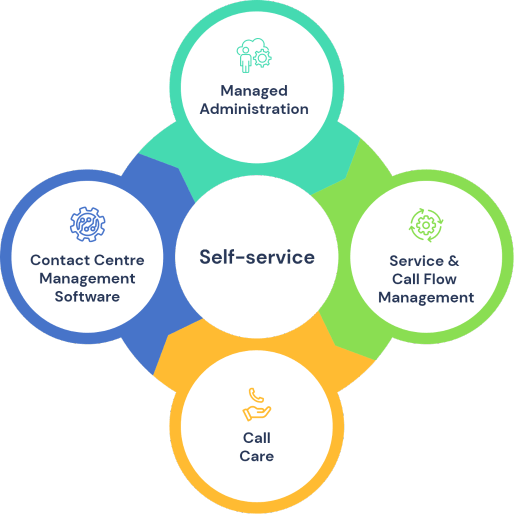 Managed Administration: What Can It Do For Me?
Contact centre managers everywhere know the challenges that come with running operations. The workload can be overwhelming, and it can be challenging to keep up with customer service demands while also managing the day-to-day activities.
That's where a fully-managed cloud contact centre comes in. With our Virtual Contact Centre, built specifically for charity, retail, public and construction organisations, you can streamline operations and take back time to focus on providing exceptional customer service.
Contact and call centre automation software takes care of the time-consuming tasks such as call recording, routing and queuing, and our team of experts is there to handle the administrative side of things, ensuring everything runs smoothly.
Leave us to handle the fiddly bits – adding users, managing enquiries, configuring queueing protocols, managing prompts in IVR – so you can focus on the important stuff.
We also provide ongoing customer support and maintenance, so you can rest assured that your contact centre is always running smoothly.
Cloud Contact Partnership
At Call Handling, we believe that collaborative partnership is the key to business success. We pride ourselves on providing the best-managed administration in the business, delivering ongoing support, customer satisfaction, and maintenance that is second to none.
Our industry-specialised VCC support team is here to help you with any issues that may arise, offering data-backed insights to help you make informed decisions.
We don't just provide a software solution; we work with you to improve your contact and phone system processes continually, and help you optimise your operations.
But despite our cutting-edge technology, we never forget the importance of the human touch. Our support team is here to help you, providing a personalised service that ensures you get the help you need when you need it.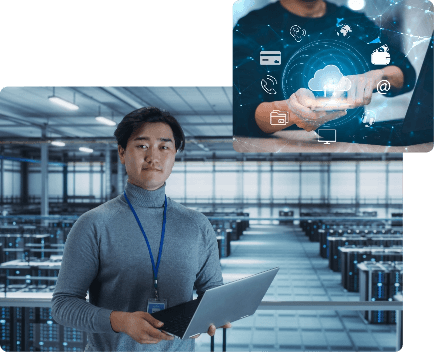 Discover the transformative service features of

a fully-managed cloud contact centre.
Prefer To Self-Service? Look No Further.
Service & Call Flow Management
Contact Centre Management
Our Managed Administration: FAQs
'Managed administration': what does it mean?
Our Virtual Contact Centre managed administration means that we handle the day-to-day operations of your contact centre, from call routing and queueing to ongoing support and maintenance. We take care of the technical details, so you can focus on providing excellent customer experience.
What is contact & call centre automation software?
Contact and call centre automation software automates customer conversations where possible, using advanced features like interactive voice response for incoming calls. This streamlines operations and improves the efficiency of your contact centre.
Our contact and call centre automation solutions include call routing, queueing, and recording, as well as real-time monitoring and reporting.
What are the key benefits of managed administration?
Some of the key benefits of our fully-managed service include:
Streamlined operations and improved efficiency
More rewarding, personalised customer interactions
Seamless handling of all contact enquiries, including inbound and outbound calls
Ongoing support and maintenance, ensuring your contact centre is always running smoothly
Improved workforce management
Industry-specialised support and data-backed insights
Process discovery and improvement to optimise operations
Personalised service with a human touch
Why should I choose to Call Handling?
Our team is dedicated to providing the best-managed contact centre solutions in the business, with a focus on customer service, streamlined operations, and ongoing support and maintenance.
With our Virtual Contact Centre, you can take advantage of the latest technology without the need for expensive hardware or software upgrades.
Partnering with Call Handling means you get access to a team of specialists with expertise in your sector, dedicated to helping your business succeed – contact us today to learn more and discuss your needs.