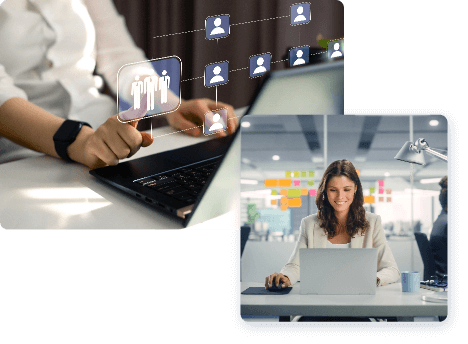 Optimise Customer Journeys & Boost CX With IVR Call Flow Software
Reduce Wait Times & Increase Customer Satisfaction
Unparalleled Flexibility With Real-Time Reporting
Custom call flows. Advanced analytics. Real-Time reporting.

IVR call flow software – all part of our VCC.
What Can Our IVR Call Flow Software Do For Contact & Call Centre Managers?
Maximise Agent Productivity & Optimise Customer Interactions
Make Better-Informed Decisions With Real-Time Reporting & Analytics
Increase Customer Satisfaction By Slashing Service Wait Times
Customise & Streamline the Resolution Pathway: Boost Contact & Call Centre Efficiency
Start driving unparalleled

contact centre ROI today.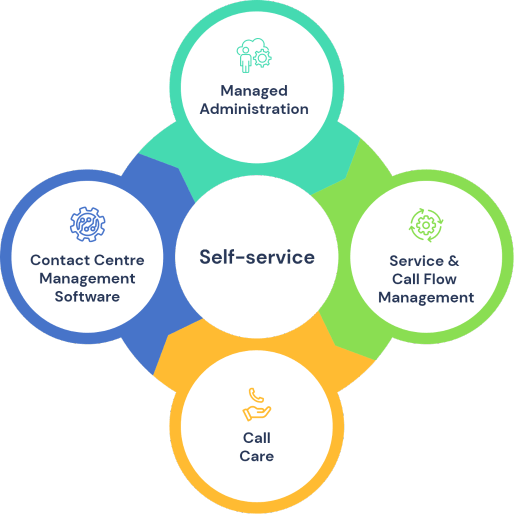 Call Flow Software & The Business Advantages
Built specifically for charities and organisations just like yours, our advanced IVR call flow software is designed to streamline your contact centre operations and enhance customer experience.
Say goodbye to long wait times and hello to a more efficient call routing system. Manage customer support calls with a powerful call centre solution; our software allows for custom call flows, ensuring that customers are directed to the right agent or department quickly and easily.
Team leaders can also benefit as the system maximises the productivity of every agent, allowing them to focus on more complex tasks while the technology takes charge of the basics of the phone system.
Implement our Virtual Contact Centre to reach service users more quickly and deliver the help they need, when they need it.
What Call Routing Features Does the VCC Offer?
As part of the VCC, our IVR call flow software offers advanced call routing features to improve customer interactions and automate processes for your contact centre.
For instance, our system can route incoming calls based on various factors such as:
Customer history
Time of day
Agent availability
User behaviour
Whitelisted priority status
De-prioritisation or blacklisting
You can create custom call flows to ensure that customer calls are directed to the appropriate department or agent quickly and efficiently.
Real-time reporting provides insights into call volumes and wait times, allowing team leaders to make informed decisions to optimise performance. What's more, analytics provide valuable data on customer interactions, helping you to identify areas for improvement and streamline your call flow strategy.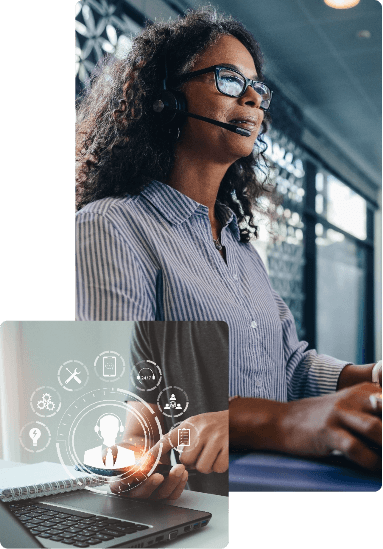 The future is here.

Is your contact centre ready?
Discover Our Other Self-Service Functionalities
Contact Centre Management
Service & Call Flow Software: FAQs
What is call flow software and how does it work?
Call flow software is a system that manages inbound calls within a contact or call centre. It uses automation and call routing to improve call centre efficiency, reduce wait times, and increase customer satisfaction.
With our Virtual Contact Centre, custom call flows can be created to ensure customers are directed to the right agent or department. Real-time reporting provides data on call volumes, queue times, and agent performance, to help managers and team leaders make better-informed decisions.
What is IVR?
Interactive voice response (IVR) is a technology that allows customers to interact with a communications centre using voice or keypad input.
It is a key feature of call flow software, allowing customers to access information, complete transactions, or be routed to the right agent or department.
Browse our case studies and customer stories to see how our partners have implemented the VCC contact centre software, or get in touch now to discuss your needs specifically.
What are the benefits of call flow software for contact & call centres?
Call flow software provides a range of benefits to contact and call centres, including:
Improved customer interactions
Reduced wait times
Increased customer satisfaction
Enhanced call centre efficiency.
Custom call flows and call routing ensure customers are directed to the right agent or department, while real-time reporting and analytics provide insights into call volumes, agent performance, and customer behaviour.