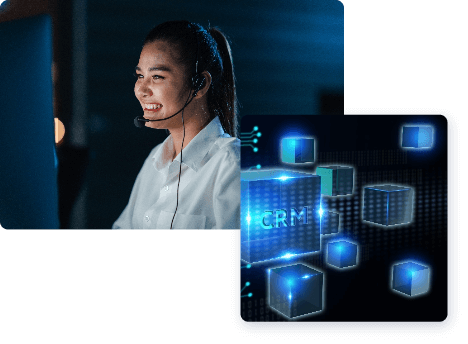 Personalised, Intelligent Interactions With Unified Customer Data
Optimise the Sales Cycle & Prioritise Business Opportunities
Gain a 360° View of Users: Simplify & Streamline Your Service
COMING SOON: Freshworks CRM integration with our VCC.

Customer interactions: integrated. Unified. Optimised.
Why Integrate My Contact
Centre With Freshworks?
Utilise AI-Powered Insights to Spot Revenue Opportunities & Expand Your Business
Personalise Omnichannel Interactions & Deliver a Stellar CX From a Unified Platform
Instantly-Accessible User Data Means Outstanding Service At Every Touchpoint
A 360° View of Your Customers: Turn Every User Into a Brand Champion
Realise the CX-boosting power of

a future-proof cloud contact centre.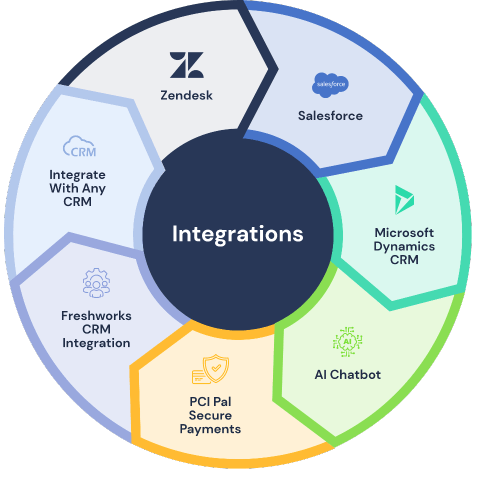 Freshworks CRM Contact Centre Integration – The Business Case
We understand the importance of delivering effortless, expert customer service for businesses in the
charity
,
retail
,
public
and
construction
sectors. That's why we're proud to offer integration with Freshworks CRM.
Our Virtual Contact Centre seamlessly integrates with Freshworks CRM, providing you with the tools to create personalised omnichannel experiences, improve engagement and conversions, and gain AI-powered data insights.
Benefits of integrating Freshworks CRM with our virtual contact centre include:
Increased operational efficiency, with easy access to customer information and streamlined processes
Personalised omnichannel experiences, with the ability to track customer interactions across multiple channels and tailor communications accordingly
Improved engagement and conversions
AI-powered data insights, allowing you to analyse customer data and identify trends, pain points, and opportunities
Effortless, expert customer service, and the right support provided when and where customers need it.
User Experiences Where the Journey Really Is a Reward
Our Virtual Contact Centre integrated with Freshworks CRM can help streamline your customer's journey and provide a customised experience.
Imagine a scenario where a user contacts your business via chat with a question about a product. With Freshworks CRM integration, the customer's chat history and previous purchases are readily available, allowing your agent to personalise the conversation and offer tailored recommendations.
If the customer decides to make a purchase, the transaction can be completed seamlessly within the chat window without the need to switch to another platform or application.
By streamlining the customer's journey, you can provide a more efficient and satisfying experience, ultimately leading to increased customer loyalty and satisfaction.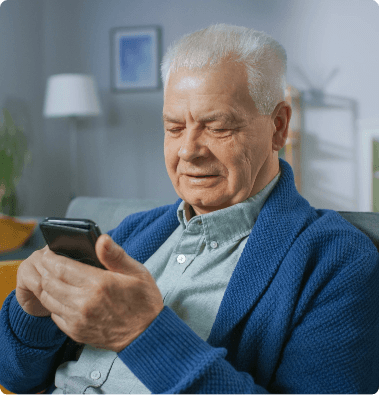 Ready for the future of customer communications?

Meet our VCC.
We Offer a Range of Integrations
Freshworks Integration: FAQs
What is Freshworks CRM?
Freshworks CRM is a cloud-based customer relationship management (CRM) software designed to help businesses streamline their sales processes, manage customer interactions, and provide a better customer experience.
With Freshworks CRM, businesses can access customer data in one place, automate workflows, and track customer interactions across multiple channels.
Why integrate Freshworks with my contact centre?
Integrating Freshworks CRM with your contact centre allows you to access customer information in real time, enabling you to provide a more personalised and efficient customer experience. Integrating with our VCC lets you track customer interactions across multiple channels and use the data to tailor communications and automate workflows.
Does the VCC integrate with other CRMs?
Our virtual contact centre can integrate with a range of other CRMs, such as Salesforce, Microsoft Dynamics and Zendesk. We understand that businesses have unique needs, and we strive to provide flexible solutions that meet those needs.
Will support be available if I have an issue?
Yes, always. We offer some of the best support in the industry as part of our partnership, and our team is available 24/7 to assist with any issues or questions you may have. Simply contact us with any questions or queries.
Is it possible to arrange a demo?
Yes, we offer a free demo of our Virtual Contact Centre integrated with Freshworks CRM. Contact us to schedule a demo and see how our solution can help improve your customer service and drive business growth.