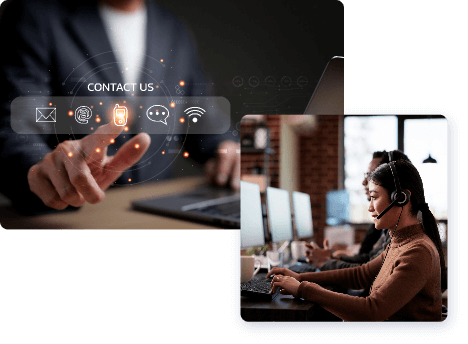 Perfect For Retail. A Connected Management System With Advanced Telephony Features
Intuitively Handle All Your Branches, Phone Numbers, & Opening Hours
Optimal CX: Locate a Nearby Branch, View Opening Hours, & Get Connected Seamlessly
Built specifically for companies with

multiple branches & operating times.
Call Care: Intuitive Management
& Control of Multiple Branches
Totally Flexible, Operation-Wide Coverage. Enable Efficient CX In Every Branch You Manage
Streamlined Administration Across All Your Locations - Branch Numbers, Hours, Details, & More
Future-Proofing Infrastructure, To Optimise Workflows & Gain an Operational Advantage
Includes Systems To Locate Your Nearest Branch, See Its Opening Hours, Get Connected, & Play Custom Messaging
Looking for a customised contact centre solution?

Let's talk.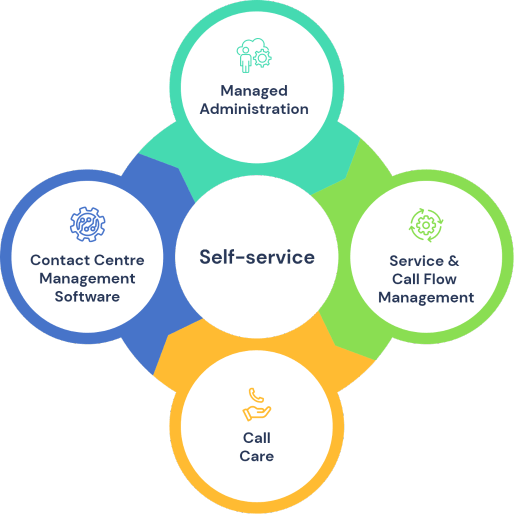 Customer Service: Across the Map, Around the Clock
We understand that, for charity, retail, public and construction businesses with a wide range of locations, managing a multitude of locations effectively can be challenging.
With our call care technology, you can ensure that your customers and clients receive exactly the support they need, regardless of the branch they contact.
Totally flexible and limitlessly customisable, Call Care enables streamlined and intuitive management of multi-branch companies. It allows you to oversee and control branches – along with their phone numbers, opening hours, and other important details.
A wide range of telephony features can be driven from this data. For instance, Call Care unlocks the ability to:
Locate nearby branches
View their opening hours
Connect with an agent
Access custom branch-related messaging
For multi-location organisations, management and control doesn't come smoother than this.
Need Assistance? That's Why We're Here
Customer service is more than just technology, and we pride ourselves on delivering a human touch with Call Care – just like we do with the entire VCC.
Our goal is to build a partnership with our clients. We're committed to being there whenever you need us.
When you're managing an organisation with multiple locations, our Call Care software empowers you to take control of your own operations; that said, we understand that you may have questions or need assistance from time to time.
That's why we offer industry-specific support from our experienced team of professionals.
Whether you need help with installation, training (including software or phone support training), or ongoing support, we're here to help.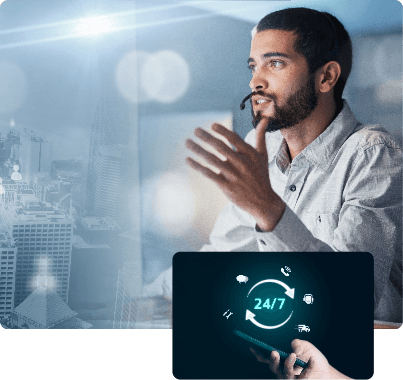 Industry-leading Call Care software.

Discover the transformative benefits today.
Our Other Self-Service Tools
Service & Call Flow Management
Contact Centre Management
What data can I track with Call Care?
As part of our
Virtual Contact Centre
, our Call Care software is a cloud-based solution that enables managers to oversee and administer their own communications operations independently.
This software allows managers to monitor:
Call centre performance
Phone calls and contact efficiency
Agent activity
Quality assurance
Customer experience
Why is quality assurance important?
For businesses with multiple locations and varying operating times, flexible and self-service management software is a major competitive difference-maker.
Here are some benefits of contact and call centre quality assurance software:
Improvements in contact and agent productivity
Enhanced customer experience and service
Achieve and surpass your key performance indicators
Provision of data-backed insights into operations
Identification of areas that need improvement
Assurance of compliance with regulations
Enablement of improved agent training
Reduction in costs
Streamlined customer journeys
Elevated contact / call quality
How can Call Care software be customised to meet the unique needs of different organisations?
Our call monitoring software is flexible and totally customisable.
We can accommodate businesses with multiple branches and various operating times, making it easier for you to provide consistent customer experience across the board. Our software is also completely configurable, allowing you to tailor it to meet your unique quality monitoring needs.
I want to learn more. Where can I go?
We've got a wide range of resources available on our website, including numerous case studies and our blog; browse them now for more information.
Alternatively, get in touch with us directly or schedule a demo now. We'll be happy to walk you through all the need-to-know information.