Get a Single View Of Your Customers In One Unified Platform
Streamline Operations & Boost Agent Productivity
Seamless CRM Integration To Increase Sales & Gain Visibility
Salesforce contact & call centre integration with our VCC.

Unified customer relationship management.
Why Integrate My Contact Centre With Salesforce?
Deliver Timely & Proactive Customer Service With A Centralised Contact Centre
Improved Business Decisions: Leverage Unified Reporting & Analytics
Gain a Single View Of Users & Exceed Customer Expectations. Personalise & Excel
Bridge Gaps Between Siloed Teams & Collaborate More Efficiently
Optimise contact centre ROI

with our integration abilities.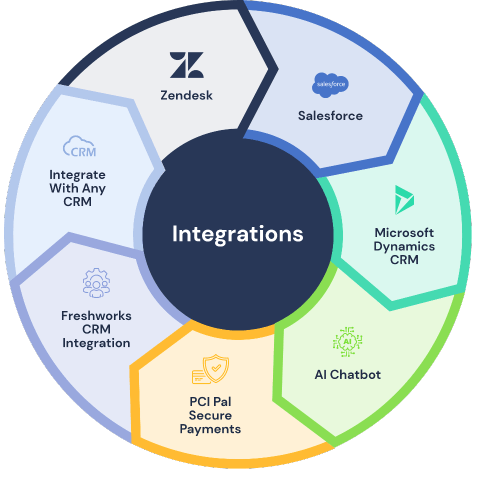 Salesforce Contact Centre Integration – The Business Case
Integrating your contact centre with Salesforce can be a CRM game-changer for charity, retail, public sector and construction organisations.
It offers a unified view of your customers, centralised real-time dashboards, and automation capabilities, resulting in a more customer-centric approach.
Here are just some of the benefits of integrating your contact centre with Salesforce:
A unified view of users: Get a complete picture of your customer interactions across all channels, providing agents the necessary details to deliver a personalised experience.
Centralised dashboards: Access real-time insights into customer data and performance, enabling more data-driven decisions.
Customer-centricity: A 360-degree customer view allows agents to personalise interactions and provide better customer service.
Proactive CX: Identify customer issues before they become problems, enabling agents to take a proactive approach to customer experience.
Process optimisation: Improve the efficiency of your contact and call centre management by identifying areas for improvement and automating manual processes.
How Salesforce CRM Integration Optimises the Customer Journey
Integrating your Virtual Contact Centre with Salesforce CRM can greatly enhance the customer experience for individual users. By providing agents with a 360-degree view of each customer, they can quickly and easily access relevant information to personalise interactions and resolve issues faster.
For example, imagine a customer who has recently interacted with your company through multiple channels, such as phone, email, and chat.
By integrating your contact centre with Salesforce, your agent can see the customer's entire history of interactions across all channels, enabling them to provide a seamless and personalised experience.
Furthermore, Salesforce's AI capabilities identify potential issues before they become problems, enabling agents to take a proactive approach to customer service.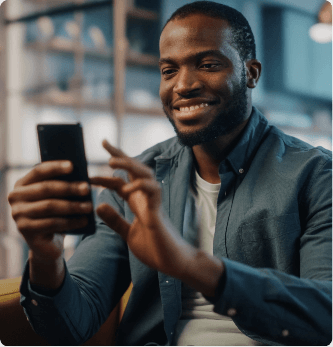 Cloud contact solutions that

match your business goals.
Across-the-Board Integrations
Salesforce Integration: FAQs
What is Salesforce?
Salesforce is a cloud-based customer relationship management (CRM) software that helps businesses manage customer interactions and streamline sales processes.
It provides a 360-degree view of customers and enables businesses to automate and customise interactions across various channels, including email, phone, social media, and more.
Why integrate Salesforce with my contact centre?
Integrating Salesforce with your Virtual Contact Centre can provide a unified view of customer interactions across all channels, equipping agents with instant access and the ability to provide a more personalised experience. It also streamlines contact centre operations, improves communication and provides real-time insights into contact centre performance, helping managers make data-driven decisions.
Does the VCC integrate with other CRMs?
Yes – as well as Salesforce call centre software, our VCC can integrate with other CRMs, including Microsoft Dynamics and Freshworks. We also offer a range of further integrations, such as with PCIPal and Futr.
What happens if I encounter an issue?
Our customer support team is available 24/7 to help resolve any issues you may encounter. We also provide comprehensive resources to help you get the most out of our system. Contact us directly if you'd like to discuss your organisation's needs specifically.
I'd like to see the system in action. Where can I go?
You can request a demo of our VCC – one of our sales representatives will be in touch to schedule a personalised demo based on your needs. During the demo, you will have the opportunity to see the system in action and ask any questions you may have.
You might also be interested in browsing our partner case studies, where you can see how organisations just like yours have implemented the VCC.